The VOOPOO Drag X2 80W Pod Mod Kit stands out as a true powerhouse, combining cutting-edge technology with a sleek design. Will it outperform the other vapes in the drag line? Let's wait and see.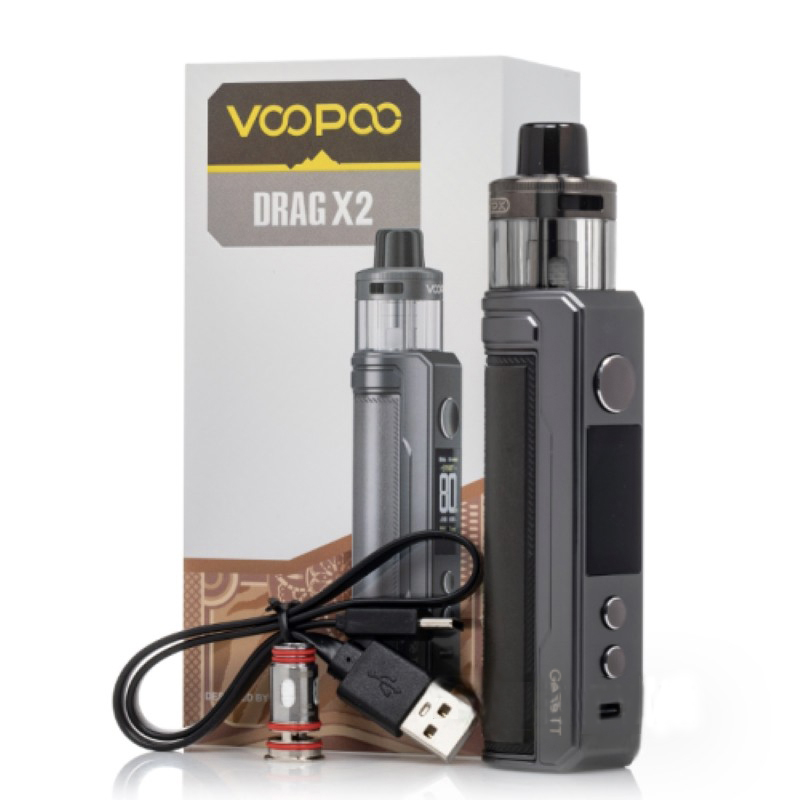 Crafted from durable zinc-alloy, the Drag X2 Pod System near me boasts a robust chassis that not only adds a touch of elegance but also ensures the protection of its advanced GENE.TT chipset. This chipset is the heartbeat of the device, providing a seamless and powerful vaping experience.
One of the standout features of the VOOPOO Drag X2 is its wide power range, spanning from 5 to 80 watts. This flexibility caters to the needs of experienced vapers who seek precise control over their vaping settings. The device doesn't shy away from welcoming novice vapers either, thanks to its innovative smart mode.
The Drag X2 incorporates an intelligent smart mode designed to simplify the vaping experience. This feature detects the installed coil and automatically adjusts the wattage to prevent dry firing or accidental high-wattage outputs. It's a game-changer for those who prioritize ease of use without compromising on performance.
The VOOPOO Drag X2 comes equipped with the PnP X Pod, capable of holding an ample 5mL of your favorite eJuice or nicotine salts. This generous capacity minimizes the need for frequent refills, ensuring an uninterrupted vaping session. The PnP X coil series, employed by the Drag X2, takes the vaping experience to new heights, delivering both satisfaction and excitement.
Powering the Drag X2 is a single high-amp 18650 battery, a popular choice among vapers for its balance between performance and convenience. This ensures that you can enjoy a day of vaping without constantly worrying about running out of power.
In conclusion, the VOOPOO Drag X2 80W Pod Mod Kit stands as a testament to innovation in the vaping industry. From its robust construction to the intelligent smart mode and impressive PnP X Pod and Coil System, every aspect of the Drag X2 is designed to elevate the vaping experience. Whether you're a seasoned vaper or a beginner, this pod mod kit offers the perfect blend of power, convenience, and style. Elevate your vaping journey with the VOOPOO Drag X2.