Monster Bars Max is a premium single-use vape released at vape stores, a new addition to the well-known and popular brand Monster Vape. It delivers the performance, convenience, ease of use and flavor you'll be obsessed with. The Monster Bars Max has a unique design, it's nice, compact, and sleek, and because it doesn't have an activation button or any buttons, the device is also very easy to use.
The Monster Bars Max Disposable is a pre-charged and pre-filled device with a large rechargeable 1200mAh integrated battery, a large 12ml vape juice capacity, and a generous 6000 puffs. It delivers the amazing quality and all the features you expect, infused with 5% (50mg) of tobacco-free nicotine, enough to taste the deliciousness of your choice.
The Monster Bars Max rechargeable disposable vape has powerful suction to deliver a lot of steam and meet your vape needs, making it perfect for novice vapers. The compact size fits easily into your pocket or hand, giving you the convenience and fun you need. While Monster Bars Max offers the exciting and delicious flavors you love, if your ideal is an amazing experience from the first sip to the last, then the Monster Bars Max Vape is the one you will never regret.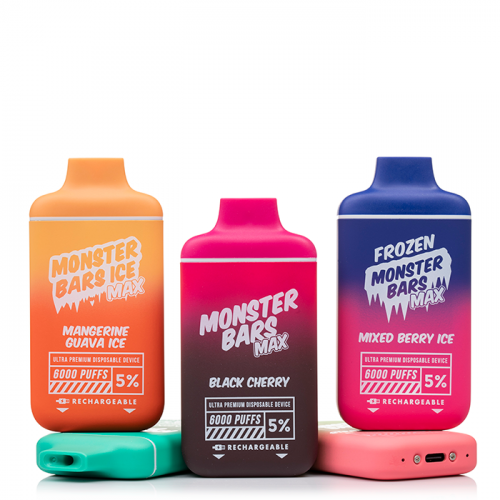 Specifications:
E-Liquid Capacity: 12ml
Nicotine Strength: 50mg of Salt Nicotine
Puff Count: 6000 puffs
Nicotine Type: Tobacco free nicotine
Monster Bars Max Features:
All-in-one system
Draw activated firing mechanism
Rechargeable
Fully Disposable
Non-Refillable
Up to 6000 Puffs per device
12mL Prefilled Pod
Mesh Coil
50mg Salt Nicotine
Rechargeable 1200mAh Battery
Flavors:
Custard Banana: Sweet Ripe Banana and Whipped Smooth Vanilla Custard
Custard Vanilla: Intense vanilla cream flavor
Frozen Banana Ice: Creamy, Tropical Banana Flavour with Iced Menthol Extract
Frozen Mixed Berry Ice: Raspberry, Blackberry and Blueberry Flavor
Fruit Strawberry Banana: Sweet strawberry and tropical banana flavors
Fruit Strawberry Lime: California Strawberries and Florida Limes
Ice Mangerine Guava: Mango, orange and guava with cool menthol
Ice Melon Colada: Flavor of pineapple, coconut, melon and mint
Jam Black Cherry: Baked Brioche with Irish Butter and Tart Cherry Sauce
Tobacco Mint: Menthol-flavored icy blend
Recommended Products:
smok novo 4 mini
geekvape ap2 kit
Read More Related Articles: http://www.vapingnews.ca/best-vaping-partner-ijoy-lio-boom-disposable/