Today's review is of the VYKO Paper Bar Disposable. Firstly, I would like to introduce to you the VYKO brand, which was established in the UK in 2012, from production to manufacturing is completed by local labour.
Therefore, this is a disposable company with an amazing ten years. Importantly, VYKO is also the first brand to implement a plastic-free e-cigarette. More environmental protection and product recycling which has made a great contribution.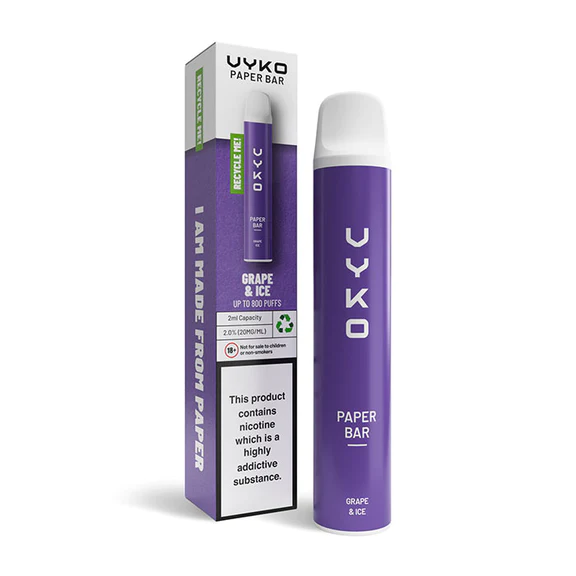 VYKO Disposable is committed to making more smokers join the ranks of quitting tobacco. The VYKO Paper Bar Disposable, a disposable vape to be launched today, implements the purpose of being plastic-free.
The shell is made of paper material so that it can be recycled safely after use, which greatly reduces the burden on the environment. After using the paper shell, vyko paper bar is easy to disassemble, saving energy and reducing pollution.
VYKO Paper Bar is powered by a 450mAh pre-charged battery and provides up to 800 inhalations, giving you enough enjoyment within the TPD standard.
Blue Menthol is a mixture between a berry mix and crushed ice, delicious and icy.
Grape Ice is a blend of green grapes and purple grapes, accompanied by bursts of elegant aroma, and it will feel a little cold when you exhale.
Cream Tobacco blends sweet cream with fresh Cuban tobacco flavours, a collision between classic and sweet, making people feel novel and addictive.
Kiwi Passion Guava is a passionate combination of kiwi, guava and passion fruit, very exotic, sweet and refreshing.
As the first plastic-free disposable in the UK, VYKO should be strongly supported, because the non-recyclability of disposable pods has caused the phenomenon of discarding.
In fact, there should be more and more brands that should learn this environmentally friendly behaviour and make disposable vape kits that can also be a part of being environmentally friendly.
You may also like these:
rpm 5 kit
uwell cravat kit price